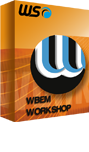 * Requires Java 7 32-bit
WS WBEM Workshop (Windows Beta 3)
Last Updated 05/03/2013
The WS WBEM Workshop tool is a framework that allows the addition of features through plug-ins.
Supported and Available Plug-ins:
WBEM Operations

The WBEM Operations utility allows a developer to browse and manipulate CIM elements on any WBEM Server that supports CIM-XML and WS-Management as defined by the Distributed Management Task Force (DMTF). This tool is designed to assist a developer in creating and testing WBEM applications and instrumentation providers.

Job Control

The Job Control is a WBEM Workshop plugin that is used to easily monitor jobs in a WBEM server.

Message Registry Editor

The Message Registry Editor allows the user to conveniently edit message registries. A message registry defines messages that can be used to return errors.
For product questions and information about package pricing please contact sales.